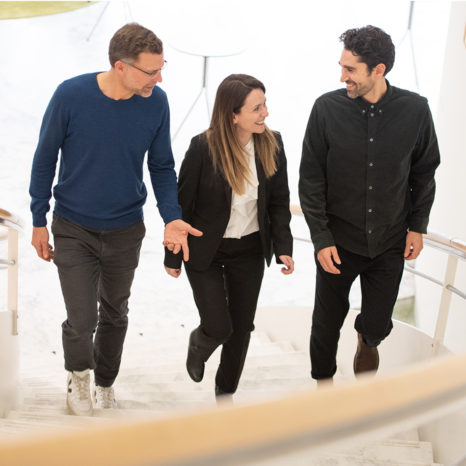 Scholarships & Tuition Incentives
Scholarships in the form of merit-based tuition incentives are available to candidates that have an outstanding personal or professional profile in one of the following categories:
Corporate Social Responsibility
Sustainable Impact
Diversity and Inclusion
Entrepreneurship
Emerging Markets
To be considered, you are required to submit, together with your online application form, a 1-page essay stating how you expect to contribute your particular skills and expertise in the chosen category to the programme, and how it can benefit your fellow classmates.
The emba X Admissions Committee decides upon the attribution and amount of the incentive award, which is applied against tuition fees. These are not guaranteed
Fellowships
Thanks to the support of Corporate Partners, emba X is pleased to provide financial support to qualified applicants in the form of fellowships.
Novartis and emba X share a vision of using Swiss expertise to make a positive impact on global business and global welfare. The Novartis Fellowship has been established to encourage the development of talented executives and it provides partial financial support for up to 2 emba X students from each cohort (from CHF 27'500 to 55'000).
To be eligible for the Novartis Fellowship you must:
Be admitted to the emba X programme (i.e. have successfully completed the application and selection process.)
Be 100% self-financed
Not be currently employed by Novartis or it's affiliates, but open to the possibility
Submit a reflection paper on "How Novartis can further its role in global development" with your emba X application
To be considered for the Novartis Fellowship you should submit your complete emba X application and reflection paper by no later than October 15th. Shortlisted candidates will be invited to participate in an interview with a Novartis representative.
Additional Fellowships will be announced when available.
Loans
The emba X programme is neither affiliated with any lending institution, nor does it endorse any lender.
Nevertheless, lenders may deem the programme eligible for funding. Candidates must be aware that each lender has specific eligibility criteria and requirements.
Below a non-exhaustive list of potential lenders/sponsors. Candidates must always contact the lenders directly for any additional information – we are not able to provide any advice on the specific solutions:
Deutsche Bildung     Brain Capital      MBA Education Funds     Lendwise     Splendit