Ready to (Re)Learn the Future?
As a General Management programme, no previous knowledge or training in technology subjects is required to pursue emba X. Our holistic selection process includes, beyond formal requirements, an online assessment and an interview.
Formal Application Criteria
Min. 10 years work experience
Min. 5 years leadership experience
Recognized academic degree (undergraduate or above)
Fluency in English
Online application form requirements
Updated CV
Relevant Academic Transcripts, Diplomas and Certificates (in English, or translated into English. Exception: documents originally issued in German, French or Italian are also accepted)
Contact Details of 2 Referees (professional and/or academic) – may be provided after the application is officially submitted
Impact Reflection Essay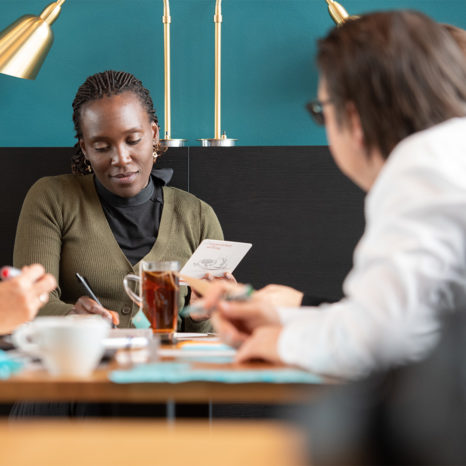 Instructions
Impact Reflection Essay
Using the UN's Sustainable Development Goals (SDG) as a reference, please select a company, institution or organization which you deem is having an impact (whether positive or negative) on the society or environment. Write a short reflection essay (500 to 1000 words) stating the reasons motivating your selection, and impact assessment.
Application process
Step 1: Get in touch
Is emba X the right next step in your career? Send us your CV and/or schedule a campus and class visit or a virtual conversation with our Talent Acquisition Team.
Step 2: Application
Complete and submit the Online Application Form. Be ready to upload your CV, Academic Transcripts and Diplomas and your Impact Reflection Essay. Additionally, be ready to share the contact details of two referees.
Step 3: Review & Assessment
Upon successful review of your application documents, you will be sent an invitation to complete our online assessment modules.  The assessments include a cognitive assessment and a video interview which can be completed asynchronously. The full online assessment takes a maximum of 90 minutes to complete.
Step 4: Interview
Upon reception of your online assessments, the Admissions Committee will proceed to a first deliberation.  If successful, you will then be invited to a personal interview (in person or online) with a member of the Admissions Committee.
Step 5: Decision
After your interview, the Committee will proceed to a final holistic review of your dossier. You can expect to receive a decision on your candidacy shortly after your interview. In case of a positive outcome, you will receive a formal Admissions Offer with details about the next steps.